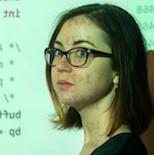 Greetings!
My interests are in computer security and privacy. Past areas of work include security for implantable medical devices, privacy issues surrounding augmented reality glasses, and security awareness and education. Future areas of interest include
threat modeling methodologies, the effects of organizational security policies on outcomes, security for medical devices and environments, privacy-respecting transformations for visual recordings, and privacy issues relating to brain-computer interfaces.
I completed my PhD at the University of Washington working with
Tadayoshi Kohno
in the
Security and Privacy Research Lab
.
News
Security seminar
12/7
TrustBase: An Architecture to Repair and Strengthen Certificate-based Authentication
Security seminar
11/30
Understanding the Context of Network Traffic Alerts (Cappers and Wijk)
Security seminar
11/23
Internet Jones and the Raiders of the Lost Trackers: An Archaeological Study of Web Tracking from 1996 to 2016 (Lerner et al)
Security seminar
11/16
A descriptive study of Microsoft's threat modeling technique (Scandariato et al)